From Cabrerets, you innitially ride south to the Lot river. From there you could pedal for approximately 30 kilometers to the center of Cahors, almost entirely on low traffic roads. However, a 10 kilometer detour is mandatory!: A visit to Saint-Cirq-Lapopie** — a very well-preserved medieval village with a wonderful view perched on a cliff and also classified as one of the most beautiful villages of France. The GPX route downloadable above includes this detour, but since the detour route returns to almost where it starts, you can just jump ahead in the GPX if you choose to ride straight to Cahors.

From Cabrerets continue south D41. When this reaches D662 (and the Lot River) in about 4 kilometers, to ride directly to Cahors turn right and continue for about 30 miles following the route described after the Saint-Cirq-Lapopie detour.
I strongly suggest the Saint-Cirq-Lapopie detour and it is in the GPX file: From the junction of D41 and D662 turn left and follow D662, southeastward 3.6 kms to the bridge over the Lot. On the way you will cross the Célé, pass through a lovely gorge, and through a lighted tunnel and a gallery. Cross the bridge (joining an un-sigposted "Lot Valley" bike route that leads to Cahors). Keep straight. After a climb of 80 meters, you arrive at a sequence of walkways down into the village. You probably will find some metal barriers where you can lock your bicycle. I recommend not taking it with you: There is a lot to see on foot and are many restaurant choices.
After your visit to the village, from the walkways follow the road uphill ; at the entrance to the parking lots, highway D40 branches right. Follow this for just under 5 km to D662 and turn left towards Cahors. (You are 1 km west of where the detour started.)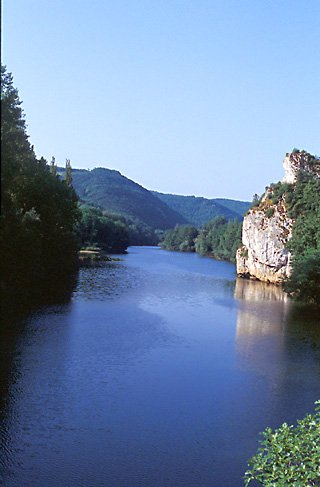 Stay on D662 for approximately 14 kilometers. After highway D662 joins D653 at a traffic circle, in about 250 meters turn left onto D49B. (Note your kilometer reading here for reference and if convenient, set it to zero.) Cross the Lot, and now ride uphill, gaining 60 meters (200 feet) in 2.2 km. When the road turns left away from the river and then sharply right, immediately thereafter by a white post with a red stripe, at 2.7 km you turn right on a road without a sign (but next to D49B road sighns) that descends back to the river. At about 5.8 km, when this road ends, turn left and ride 280 meters to the second road, Highway D8. Turn right on D8. At approximately 7.5 km you pass under the autoroute (expressway) and at about 9.3 km you turn right to cross the railroad tracks (the first opportunity after the autoroute), turning left immediately.
Follow this road to its end at about 11.6 km. Turn left and pass under the railroad track, then turn right immediately on Rue Saint-Ambroise. This changes names to Rue Pablo Picasso, then to chemin des Pierres, then to Rue Jacques Brel. When you come to the T at about kilometer 14.5, turn right and ride to the river but do not cross the bridge, turn left and continue riding along the river, bearing left at the do not enter sign until approximately kilometer 16, when you turn right and cross the Lot on the Pont (bridge) Louis-Philippe into the heart of Cahors.