As during the previous days, you will face a long climb. Good weather is important, as you will spend much of the day crossing a high range land with few trees, as you might find above tree line in the Southwest USA. Cherish this scenery, as by the end of the day, after an incredible descent, you will be in a completely different, lower-lying countryside, the Lot Valley. Navigation is easy today, at least for the first 59 of the 69 kilometers: Just keep going on the highway, D987. I provide no map for this part of this day, since the route never leaves the highway (but the GPX track is complete).
After climbing from the town on D987 and crossing the tracks and the autoroute (expressway), you ride into micro-hilly terrain that resembles again the United States Southwest, for example the ponderosa pine park land near Santa Fe with some low-growing bushes that look like juniper but are not. You begin to climb, and 12 kilometers from Aumont-Aubrac you cross the Aubrac pass, and enter a high range land with grazing cattle. In this high land, at 1,100 to 1,300 meters ( 3,600 – 4,200 feet), called Aubrac, you continue riding for 15 kilometers. It is superlative in good weather, but don't be caught here when the weather is bad!
You traverse Nasbinals (km 22.5, B&Bs, gites and a few stores), located in a small valley, before you climb almost 300 meters (1,000 feet) to the Col d'Aubrac pass (km 26.7), and enter the French department of Averyon in the Midi-Pyrénées Region.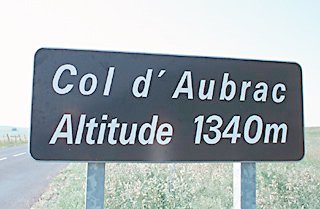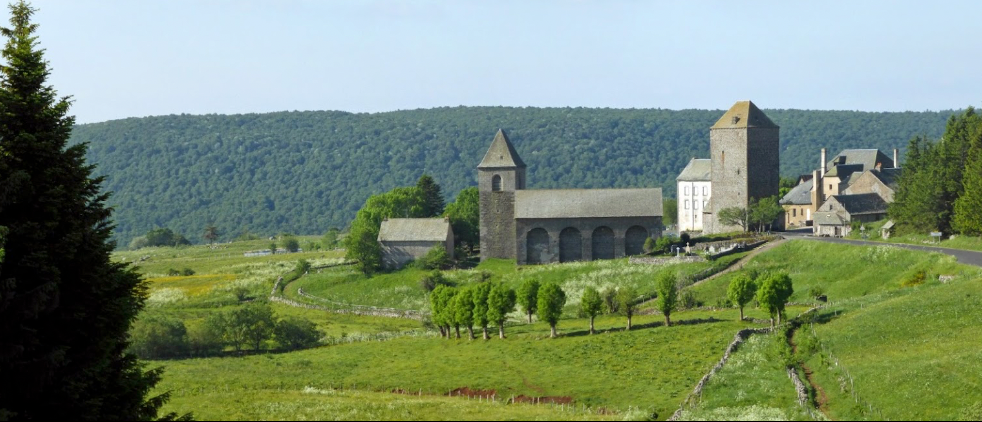 Now starts your longest descent of the entire St. Jacques journey, 28 kilometers (17 miles), always on D987. You will have to turn your pedals a few times in the tiny but quite picturesque village called the Domaine d'Aubrac (ruins of a monastery, gites, b&bs, hotel, market, restaurants), and there is another tiny hill after 13 kilometers.) After that, if you keep your wind resistance low, it is another 9.5 of pedal free riding until St-Côme-d'Olt (km 51). If you wish to stay closer to the historical route (which is impassible by road bicycle) you should turn left at the Domaine d'Aubrac onto D533 and ride to St-Chély-d'Aubrac (B&Bs, gites, hotel, camping, food, cash machine). Here turn right on D19 and climb back to D987. Note that by taking this route you will decline steeply, probably requiring brakes, and then climb back 150 meters.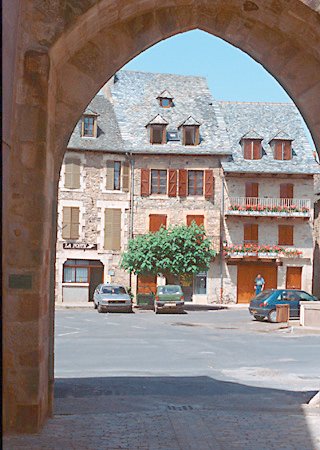 St-Côme-d'Olt (elevation of 385 meters – 1,260 feet) lies in the valley of the Lot River (Lot is a corruption in French of the original name "Olt"), and is a very charming old village with medieval half-timbered buildings. It could well be your stopping place for the night (hotels, gite, camping, about 60 kilometers from Aumont-Aubrac). At the minimum, it is worth an hour's visit . If you stay, you will want to take a very short, extra day on the following day to stay at Estaing. However, given the speed of the descent from Aubrac, you may feel, as I did, that it is too early to call it a day, and continue onwards.
In six kilometers, slightly downhill along the Lot river you come into the large town of Espalion* —the largest town since Le Puy-en-Velay (hotels, B&Bs, gites, camping, all services). (To stay here you have to prefer being in or near a very large town, and you will have further to ride tomorrow.) As you approach the town center, traffic builds up and becomes heavy.  To continue you have a choice: You could continue straight ahead on the main highway, D920, for Estaing, along the Lot River with no side clearance and fairly heavy traffic out of Espalion. Or, you can ride cross the river in the direction of Bozouls. This itinerary follows the second choice.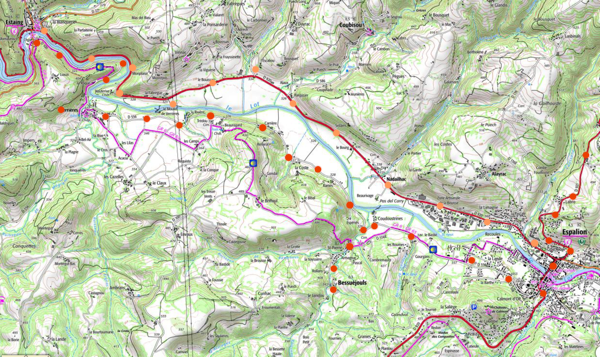 As you cross the river, stop and look left at the "pilgrims bridge". There are food and other shops just across the pilgrim bridge, on a charming narrow old street one block to the left of the highway. Continue uphill straight away from the water to the south by all the shops, not taking the road which curves to your left. Before the end of the town you will see a sign for D556 on your right and Bessuéjouls. Traffic should be very light from now on.
In about 3 kilometers a road goes off to your left near a cross and there is a sign "eglise romane" (i.e., Romanesque church). Detouring there, you crest a small hill and come upon the old church, St. Pierre-de-Bessuéjouls, which you can enter ( I hope) by pressing a button that unlocks the door.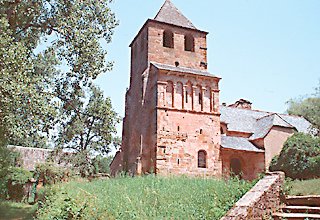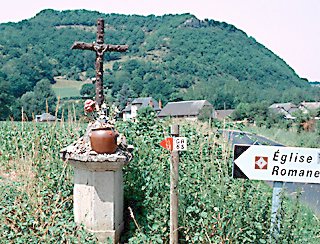 The church provokes a feeling of reverence. Climb the steep stairs at the back to arrive at the upper chapel in the bell tower, basically unchanged since the 11th century and with a ninth century altar. Grassy areas before and behind the church provide possible picnic spots. Retrace your path to D556. After 6 rolling kilometers with one hill, you turn right and follow D100 for 2 kilometers to reach Estaing. As you approach Estaing, the view of the town across the Lot is out of a fairy tale. Visit the church, the chateau, and, the twisty old streets. Estaing has hotels, b&bs, gites, and camping (about 76 kilometers from Aumont-Aubrac, elevation 320 meters).