A daunting 44 kilometer day to commence your journey—with two climbs of 500 meters (1,650 feet)—and slightly more if you follow the author's recommended detour. But worth it.
The daily Pilgrims' Mass at the Cathedral takes place at 7:00 am, followed by the Pilgrims blessing.
You follow the Way within Le Puy;
The Way of Saint James traditionally begins at the Cathedral, descends the steps, continues westward on Rue des Tables to the fountain "of the choriste", then southward on Rue Raphael to the square. If you don't go to the Cathedral, begin your trip at this square. Now go westward on Rue St. Jacques, which becomes Rue du Capucins.
You leave Le Puy en Velay (elevation 625m, 2050 feet)
I think you should follow the historical and modern walking route described below to leave the city—because you will quickly understand what it meant and means to be a walking pilgrim, and because you will have one last excellent view back over the city. If you do, you will climb very steeply, and surely have to walk your loaded bike. An alternate route out of Le Puy follows in italics.
From the intersection of boulevard St. Louis (the extension of bd. Fayolle) and rue Des Capucins, follow rue Des Capucins steeply uphill. After crossing under the rail line, and at the top of the hill, you will note the painted marks of the GR65—and other GRs, i.e., long distance routes—a white rectangle over a red rectangle. Turns are indicated by arrows, and an "X" means you are going the wrong way. Further along the route white posts with a red stripe mark the way. The route is additionally occasionally marked with the pictogram of a scallop shell, but these scallop shell signs are also used by business to lead you to their door..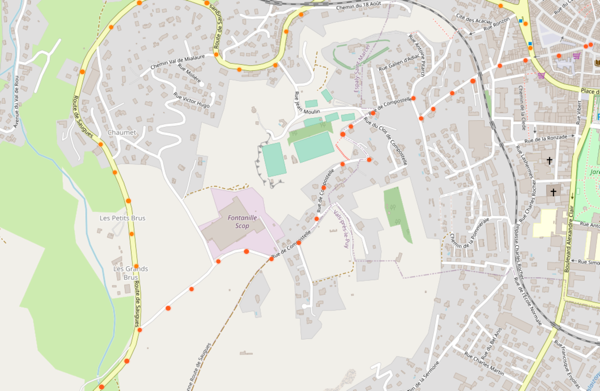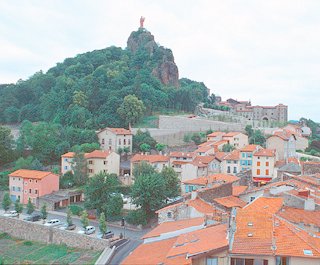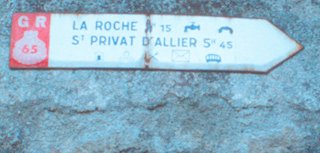 Turn right and then left onto Rue de Compostelle, continuing to climb. When the road makes almost a U-turn next to a building, you have an excellent, final view of Le Puy.  In approximately 250 meters, at the Y near a factory, where the GR continues left onto a stony road, you should branch right and coast down a hill back to the main highway, D589 (D means "departmental"). You are in the department, i.e., state, of Haute-Loire.
Alternative Route: The easier (less steep and less hilly), less interesting alternative route is to follow D589 out of Le Puy. To do so from the square descend rue St. Jacques, and at the third intersection turn north on boulevard St-Louis, turning left at the Y, onto boulevard Gambetta (D590). After 400 meters bear left onto D589. Follow D589 uphill. You soon rejoin the preferred route.
Continue climbing fairly steeply on D589. Your total climb will be roughly 1,600 feet (500 meters) over 18 kilometers. After crossing D906 you have a choice: You could continue straight ahead to Montbonnet, a slightly shorter and smoother ride, closer to the ancient route and the GR65.
My preferred route is to pass through quaint villages and by attractive stone houses (which are nowhere else along the chemin). To do this, turn left about 500 meters after D906 onto a minor road, and keep left to Augeac (where a GR65 variant comes in) and continue through les Bineyers. At Ramourouscle the GR65 comes in. Follow the GR65 WNW by the St. Roch Chapel to Montbonnet, where you rejoin D589. (Chapels with the name Saint Roch abound along the Chemin, because Saint Roch is the patron saint of pilgrims and other travelers).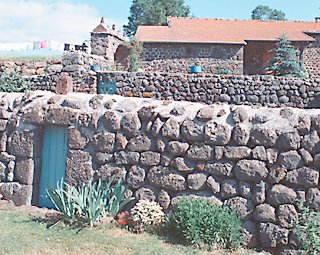 Soon after Montbonnet, the scenery changes from farmland to forest. Continue west on D589. The pass, 1.5 km after Montbonnet, has an elevation of 1,144 meters (about 3,600 feet). Be prepared: In the next 25 kilometers you are going to descend and climb back up almost 500 meters (1,600 feet). The descent begins: Your unchecked bicycle attains speeds of 50 kilometers (30 miles) or more per hour, but you have the smooth highway almost to yourself.
Halfway down, just after the picturesque village of St-Privat-d'Allier, you must decide whether continue on D589, or to make a detour to a chapel on the ancient pilgrimage route. I found this detour well worth the effort: You ride for about 3.5 km on rolling roads, some used by the official walking route, out to the ruined tower and chapel of Rochegude. The chapel commands a spectacular viewpoint over the Allier river, 1000 feet below, and is touching in its simplicity.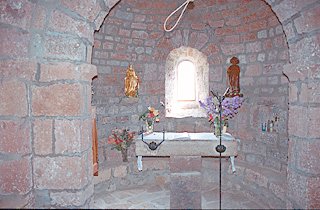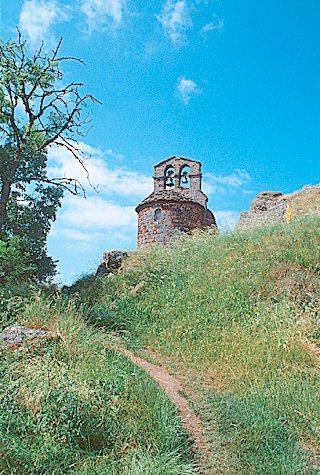 To ride to the Rochegude chapel, bear right off the main highway onto D301 just after the inn in St-Privat-d'Allier. This climbs, bears right and then loops left and starts to slowly descend. Watch for the sign for the chapel on your right; the unnamed road climbs a small hill steeply to a village, turns left, and contours west to the chapel.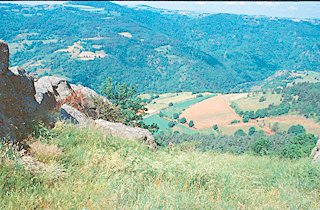 Regardless of the type of bicycle you have, you must not follow the GR65, which descends too steeply for anyone but careful walkers. Ride back the way you came for 2 easy kilometers and descend back to Highway D301. Turn right and follow this southwest for 1.5 km to a Y, bearing left. This road descends to Monistrol-d'Allier on the Allier River.
Many bikers may choose to end their day here, in Monistrol-d'Allier, where there are hotels, gites, camping, other lodgings, a food store, and a train station. If so this may add a day to your trip, or you can ride a longer "Day 2".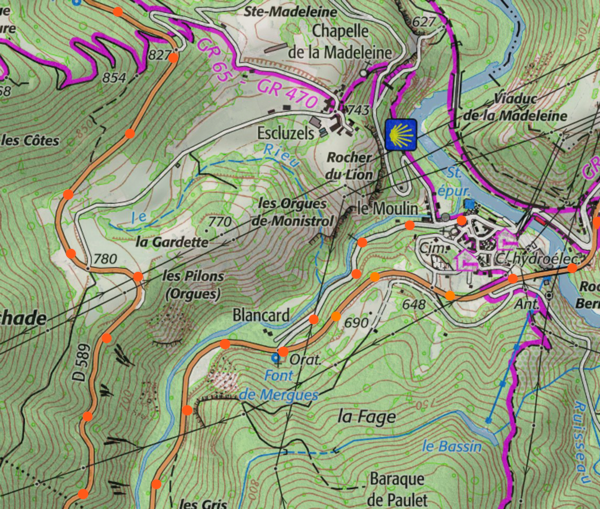 If you came by the highway, you can either continue by staying on the highway, or by crossing through the town, riding north out of town along the river, and bearinng left at the Y. (The GR65 turn right as it leaves the town, where there is a sign"seulement pour riverains" (only for residents) and comes back into D589, but this old road is too steep for a loaded road bike.)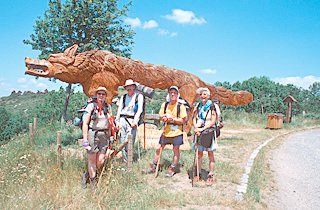 After a long climb, you reach a pass with a nice view to a higher distant mountain chain, and then descend rapidly into Saugues (hotels, gites, b&bs, and camping) . Saugues is a charming old town, with an interesting and beautiful central square with a church, an "English Tower"and surrounding buildings, bedecked in flowers. Don't miss seeing them.