This 44 kilometer day is quite exhilarating, but has a dull start. After Day 1, your slow climb in elevation above Saugues (total gain of 340 meters in 23 kilometers, but with intermediate dips) should prove rather easy. Don't be tempted to follow the GR65 that uses tiny roads, trails and tracks that cut the diagonal of the bike route, as the highways going parallel are much more hilly and less beautiful, while this bike route corresponds to the ancient chemin.
From the center of Saugues, pedal southwest on D589 to just beforethe river, and turn left to follow D585 south (slow, gently rolling climb) for about 6 kilometers. Just before Esplantas comes the first hill. Just after Esplantas turn right, southwestward onto D587, which climbs to a number of hill villages and drops back again in a pretty countryside of farms. You then begin to climb in earnest in the forest, with only a few brief descents, until you attain an elevation of 1,300 meters (4250 feet). A chapel to St. Roch stands here. The mountain chain, called the Margeride, is the one you saw in the distance yesterday. The pass area can be quite windy, and even dangerous in stormy weather. At this point the French department (i.e., state) changes from Haute-Loire (in the Auvergne Region) to Lozère (in the Langedoc-Rousillon Region), and the highway number changes to D987.
A long and glorious descent of 11 kilometers, practically traffic-free, ensues into St-Alban-sur-Limagnole. If you wish to visit the town, dismount from your bicycle where the main road becomes one way against you and walk your bike; otherwise you would have to circumnavigate and climb back up to the town. You are 30 km from Saugues (hotels, gites and camping, many stores).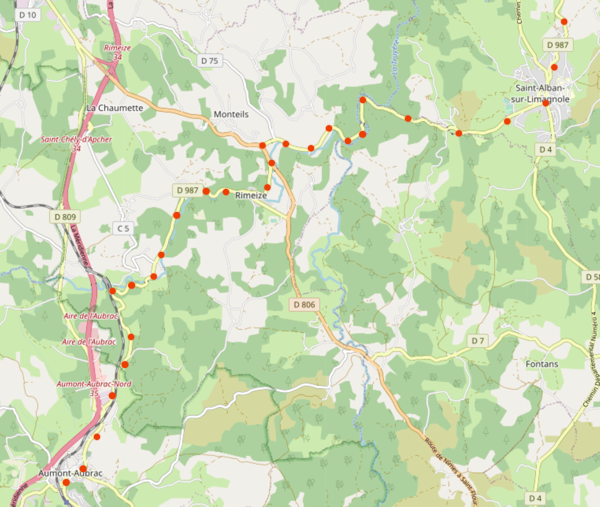 From St-Alban you ride, still on D987, beside a stream in a charming canyon which looks and smells like northern New Mexico or Arizona. When D987 runs into D806, make a short jog to the left to pick up D987 again. Now you climb for approximately 8 kilometers until you come to a railroad track, which you cross and then turn south on Route D809 for 1 kilometer into the center of Aumont-Aubrac (hotels, gites, camping).