When to Go, Lodging, Money, Baggage, Bike Choices, Bike Repairs, Commercial Options, Books and Maps
When to go: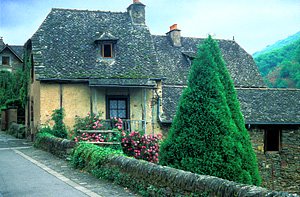 The least chance of rain is between May and September, but if this timing is not possible for you, then go in April or October. In winter, the passes can be blocked by snow; and it snows frequently in the highlands. Mid-July and August have the driest weather, but afternoon temperatures can reach 100° F (37° C) in the middle part of the ride in the enclosed low-altitude river valleys. An ideal time to ride the French Chemin (Way) is in late May or June. You will have less chance of hot or cold weather, and you will have an easier time reserving gites or hotels or other lodging, as the main tourist season will not have started. Nor will accommodations be filled with pilgrims who are planning to do the entire Chemin – Camino on foot, through both France and Spain, as they will have chosen to cross France in April and early May, or in September and early October, to avoid the summer in Spain. Thus perhaps you can have the luxury of playing it by ear. 
Certain years are designated as Holy Years (or Jubilee Years) for the St. Jacques pilgrimage, such as 2021, 2026 and 2031, when St. James Day (July 25) falls on a Sunday. True pilgrims completing the route in a holy year are granted by the Catholic Church a "plenary indulgence" forgiving all sins, and many, many more pilgrims (several times more) follow the St. Jacques Route in these years. Non-Catholic travellers ought to avoid all Saint James routes during Holy Years.
Lodging and Maps
I highly recommend the book series called Miam Miam Dodo for its maps and lodging choices. It is updated each year and purchased by about sixty percent of those using the Le Puy Chemin (Camino). The following volulmes were available in 2022: Le Puy en Velay/Cahors – €17; Cahors/ Roncevaux [Roncevalles in Spanish] – €17 Voie du Célé, Voie de Rocamadour – $10; Saint-Jean-Pied-de-Port/Santiago $19. In my bicycle itinerary, I recommend the route on the Célé for one and one-half days, as well as a possible detour to Rocamadour by bus or train, so you may wish to purchase this guide as well the first two for the main GR65 route in France. The least expensive way to obtain these guides in the UK, Europe outside France, or the USA is to order them directly from the publisher, Vieux Crayon; delivery will cost as little as €5 and take about two weeks. In France they are carried by many bookstores.
Besides maps and up to date lodging information, Miam Miam Dodo lists also potable water and toilet points, restaurants and cafés, food stores, religious services, cash machines, camping spots, bus stops and RR stations,tourist offices, and where to have your pilglrim passport ("Crédentiale" ou "Crénciale"), which memorializes your trip, stamped.
Note: the Miam Miam Dodo lodging information excludes expensive hotels and lodgings not close by the walking route. To find these, use an Internet search by location on a site such as Tripadvisor.com.
Beyond Miam Miam Dodo, the Confraternity of Saint James, a UK charity (http://www.csj.org.uk) provides some helpful materials, and sells a selection of guide books in English and French. French guide books , and Michelin and IGN maps are avilable in Le Puy and most other bookstores along the route and online. The French web-site "Geoportail.gouv.fr" has many maps to choose from; you will want to choose from the menu on the upper left the map "Carte topographique IGN", lower the visibility of the "photographies aériennes, and increase the magnification. Opencyclemap.org is another source of maps, but these do not have elevations or highway names.
I have gone to considerable effort to provide a map and accurate directions for each biking day. The maps could be dowloaded or each day's page could be printed. There are download links for GPX files for almost all biking days at the top of each day's page.
Lodging and eating costs:
Lodging and eating along the Via Podiensis can be very inexpensive. Lodging choices per person range from €7 in some gites with dormitories to €60 per night per room in modest hotels (and much more in the luxurious ones), with many in the €15 to €30 range. If you choose to stay in a hotel, identify yourself as a pilgrim, as many hotels have rooms reserved for pilgrims at lower prices. If you plan to stay in gites, blankets are provided but usually not sheets, so you will want to carry a purchased or home-made sleeping sack. Refer to Miam Miam Dodo for ideas.
Lunch menus are always less expensive, often under €20 for a formula (daily special dishes, dessert, beverage and beverage). Dinner at a Pizzeria or modest restaurant can be less than €20 per person for the menu or €30 a la carte; a mid-range restaurant may cost under € 35 for the menu.
Thus your total costs in 2022 could fall between €40 to €100 a day if traveling alone, and €60 to€120 for a couple. Of course if you are staying in gites or camping and doing your own cooking, your costs would be less. The total cost of the lodging and food of this 16 day itinerary, then, might be as little as €640 for a single traveller or €1,000 for a couple or much more if you wish.
Money:
While most hotels will take credit cards, most other lodgings will require Euro checks or more frequently, cash. If you are coming from the UK or USA and do not have European checks, cash will be your only option. Cash machines and banks are rare, often days apart, so be prepared to carry sufficient cash.
Baggage transport:
Various companies will transport your luggage from one lodging to the next, for approximately in 2023 €7 to €9 a stage per person and standard load. Since cyclists will do several walking stages in a day, their luggage fee will probably be more. Weight is limited to about 13 kilos, and it can only be for one person. You must have your luggage ready by 8 am and it will not necessarily be available until 5pm. No company services the entire way from Le Puy to Saint Jean, but there is overlap between companies, so that your baggage could be carried the entire way. To arrange the transport, make an Internet search using the phrase "bagages transport Le Puy" (note use only one g at the beginning of bagages), and for further along the route, put in the name of a city along the way. Miam Miam Dodo also provides a helpful list
Should you have your baggage transported? If you have substantial baggage, it obviously makes the biking easier, and would permit the use of road bikes that cannot mount large panniers, but 1) it is less of a "pilgrimage", as ancient pilgrims carried their own personal items; and 2) it will absolutely lock you into a daily destination, come what may along the ride.
Bicycle choices:
It is impractical to rent a touring bicycle for this trip, because to my knowledge no company will inexpensively return your rental bicycle from St. Jean to Le Puy, and there are no train connections from Saint Jean-Pied-de-Port or Compostella to Le Puy, except through Paris. It is also, to my knowledge, not possible to rent a touring bike with low gears in Paris. There is one company in Paris, that does rent excellent quality road bikes that could be fit with a small pannier, Paris Bike Company, however the lowest gearing of these bikes is 34 front to 32 rear, so you would have to be a very strong rider, and your rental cost for the entire Paris to Paris trip would be about €440. Therefore I recommend bringing a suitable bicycle, or purchasing one in Europe. At this writing there are train connections that carry assembled bicycles from Paris to Lyon by TGV and from Lyon to Le Puy; and from St. Jean-Pied-de-Port to Paris (3 TGVs a day, connection in Bayonne).
Given the very steep hills in the first week of the trip, unless you are a very strong rider or a lightweight person not carrying baggage, I would strongly suggest a bicycle with 3 gear rings, one of which is as low as your bicycle can take, perhaps a 0.7 ratio or better. Looking online, it will probably be necessary for the bike shop to change the chain rings. Mountain bike gear ratios would be ideal, but perhaps not possible on your bicycle. How wide the tires? Wide enough to avoid bottoming out at lower pressures, so it depends upon the total weight of the load, but I recommend at least 37mm. High tire pressures are faster on very smooth surfaces, but significantly slower on rougher ones. And they are less comfortable. Puncture-resistant tires are much slower on both rough and smooth road surfaces, and puncture resistance is less needed with wider tires in the rural areas of this trip. The additional weight of wider tires and tubes will be a fraction of a loaded bike when climbing hills.
E-bikes? From what I have read, the following would be issues on the hilly-mountainous Via Podensis: If you cannot come from your home to Le Puy entirely by train or car, you would have to buy replacement batteries in France, as large lithium ion batteries are not allowed on airplanes. You would need to carry an appropriate e-bike battery charger with you. You would need an e-bike that uses two of the highest capacity batteries, has large Amp-hour capacity, wattage capacity, gear choices, and range, and the ability to mount rear (and front?) panniers. So this would not be a less expensive e-bike that you might already own, and you would need to carry a heavy-duty bicycle lock to protect your valuable bicycle. You would need to stay in hotels or b&bs that would have rooms with extra outlets or spare indoor outlets. (In Spain, unlike France, e-bike riders are common and there are also charging stations.) If your batteries are discharged, you would have to walk or ride the additional weight of your e-bike up hills. If any readers have experience to the contrary, please contact me.
Bike Repairs
Given the rural nature of this trip, it seems essential to carry a complete tool and repair kit with you. I suggest carrying all sizes and types of screwdrivers for any screws on your bike, Allen keys for all sizes of hex bolts on your bike, including duplicates if needed, all needed sizes of wrenches, a small long nose pliers for cable tightening, a Swiss army knife, a set of three tire levers, a chain repair tool and repair parts for your size chain, chain oil, one or two wheel spokes, a pedal wrench if reinstalling pedals after shipping, 2 wheel rim strips, 2 spare tubes and tube repair kit, extra bolts, screws and nuts of various sizes, and a portable bike pump (I have used a Topeak Morph line of pumps for years). Depending upon on the type of brakes your bike has, carry the pads or other repair parts as recommended by your bicycle shop.
My online search found very few bicycle shops along this route, which I have listed here. Enquire locally for alternatives. Le Puy-en-Velay: Decathlon is located about a kilometer south of the old town. Aumont-Aubrac: Gévaudan Vélo is at 2 route d'Aubrac, north of the town, Tel: 06 75 71 72 77. Espalion: Espa E-bike, 6 Bd. Joseph Poulenc 06 88 32 88 41. Figeac: Motochallange, 10 Av.Barnard Fortange 05-60 50 09 32. Cahors: Cycles C7, 117 Bd. Léon Gambetta 05 65 22 66 60. Moissac: L'Escale du Vélo, 14 rue Jean Moura, rue des arts o6 52 88 45 16; also Sport 2000Center Commercial Intermarche 715, route de la Mégère (about km NW of Moissac) 05 63 32 09 34.
Commercial versus self-organized options:
Several French companies will make all your lodging reservations for you for a 14-16 day trip, provide you with maps and GPX points, and arrange your baggage transport. They charge in 2022 about € 1,100 per person for this service, double occupancy — and it seems one company double that. One company charges € 1,800 per person and which includes a road bike or for extra money an e-bike without panniers, but you must return these to Cahors, which is far from Saint Jean (and further from Compostela) or pay a steep surcharge.
Self-organized trips can be more customized and more adventurous, but require more research and planning. Fortunately, today almost everyone in France speaks some English; many lodging Internet sites have an English version; and the Mia Miam Dodo has most of the information on lodgings that you need. I always favor using the telephone when making reservations for a rapid response and learning the details of arrival. It is also useful to have made personal contact if a deluge or problem delays your trip.
Link to Day 0 – Arrival in Le Puy