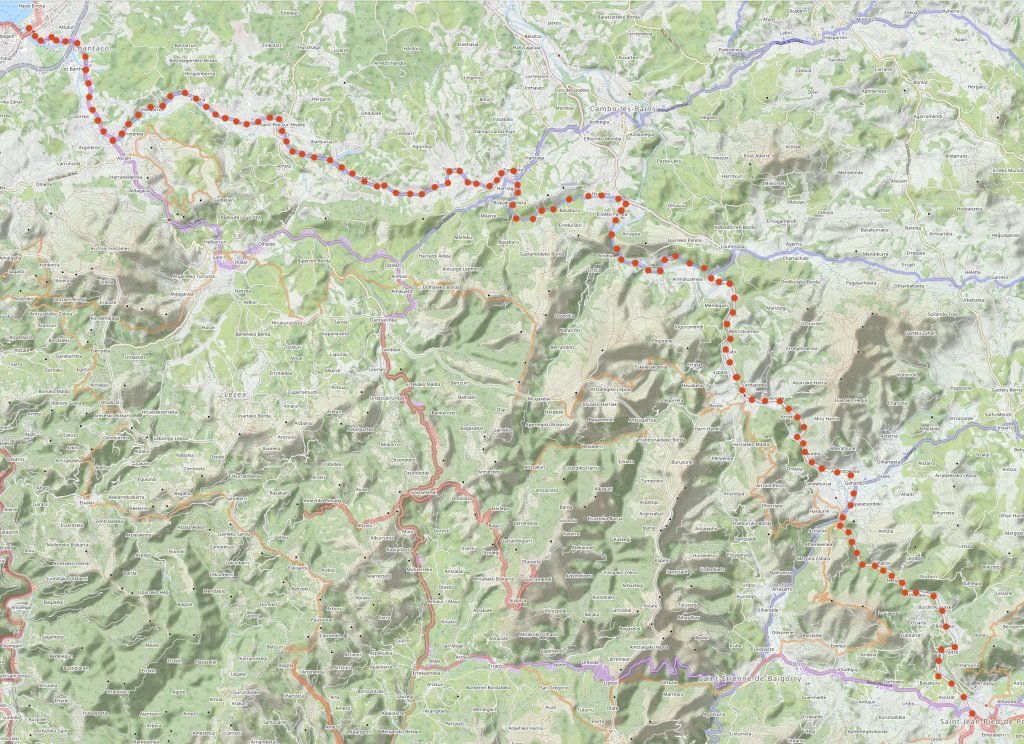 To reach the Basque Coast, first cycle northwest from St. Jean-Pied-de-Port on D918. Once away from the city this becomes a wide highway slowly descending along the Nive river. There is almost always a wide shoulder, but if not, usually but not always two lanes on your side, so that cars can easily pass you. For the least traffic, depart before tourist traffic picks up at about 9:30. No other route from St Jean-Pied-de-Port leads towards the coast.
Highway D918 narrows after Louhossoa, and since you would be forced to bike in the narrow car lane, you must turn off D918 before then and follow some narrow, mainly traffic-free, back roads. Thus, after approximately 23 kilometers on D918, a big sign on the right warns of radar control. Shortly after this, on the left at a road junction you will see a white post with a red stripe next to a blue and white striped sign pointing right. Turn left here. This is D169, that goes north, then west, and then south. After about 2.5 km you cross the river and come to a T. Turn right onto D349. Continue along the river, then up a hill to a stop sign (about 4 km, sign "Cambo"). Turn left onto D249. Shortly, at the Yield sign, do not get back on D918 but stay left on D249 (the sign for D249 is on the left side of this road). Continue, making a loop, first southwest, then north for about 6 km to the traffic circle at Espalette. Here you will again encounter the main highway D918, but now with a large shoulder. Follow D918 for approximately 21 kilometers to a major intersection with a stop light and a crosswalk . (Shortly before this you will have noticed green athletic fields and white structures on your left.) Turn left here, and immediately right onto the paved bike path. In 3 km the bike path takes you into the center of St Jean de Luz. You will be 4 blocks from the sea.
From the center of St Jean de Luz, an often traffic-free bike route leads north along the coast to Biarritz, Bayonne, and points further north in France; or you can ride south on a bike route to Hendaye, Irun and points further south and west in Spain. Consult opencyclemap.org for routings.