With good weather, this is a beautiful day of biking, with 670 meters (2,200 feet) of climbs over 62 kilometers of distance. Because the parallel autoroute takes most of the traffic, it would be possible to ride south from Aire-sur-L'Adour on the very boring, high speed highway, D834 until the turn for D946 to Arzacq-Arraziquet. This would save time and 5 kilometers, but would not be whatsoever in the spirit of a pilgrimage. From Arzacq-Arraziquet, I strongly suggest that you follow all these directions. An alternate route I have seen in a long out-of-print guidebook and the route shown on open cyclemap is harder, less attractive, and less close to the ancient pilgrimage route. Today's directions are complex, so you will need to pay attention!
It is more difficult, indeed often very difficult to find lodging along your ride today, especially hotels and b&bs. Therefore, plan ahead!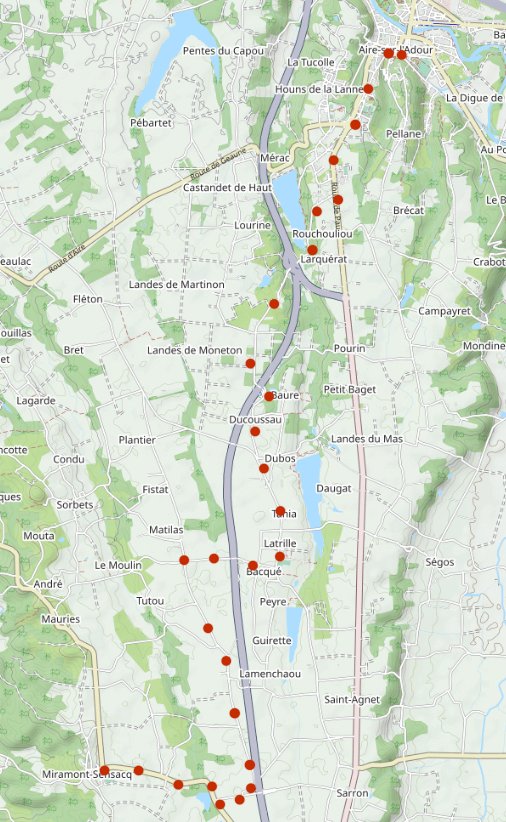 At the From the south end of Aire-sur-l'Adour start on D834, which turns right and begins climbing. Since it is probably safer to take the slightly steeper but quieter "old road", In about two blocks, at the cross monument, bear left and now climb very steeply until this road ends back at D834. From here, in about 1.5 kilometers, just where the road narrows to two lanes, turn right onto D456 (no sign). Follow this under the Autoroute and back under the Autoroute again until it ends at D62. Turn left and ride 2.5 into Latrille. Immediately after the town turn right on D375 (small sign Segos), pass over the autoroute and take the next left onto a narrow road heading south again (sign for bicycle route C24). Continue about 4km until this comes along side the Autoroute and curves right into D412. Turn right. In 500 meters D412 ends at D11. Turn right. In about 2 km in Miramonnt-Sensacq (gite, hotel), keeping straight this becomes D314 .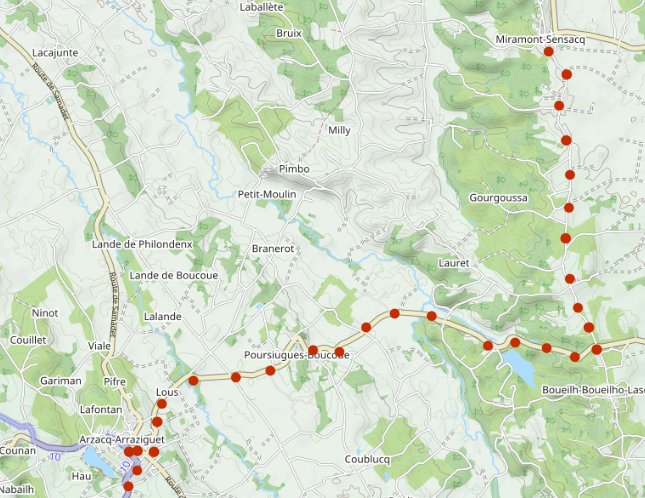 After one long block turn left to stay on D314. At the end of the town, bear left and continue south on D314 and 314E. You will now begin to encounter some small hills. You cross into a new French department, the Pyrénées-Atlantique, so the highway number changes – to D296. In about 2 km from Miramont-Sensacq at a stop sign, turn right on D946 (sign Arzacq-Arraziguet). A large descent ensues, followed by a large climb on D946 to Arzacq-Arraziquet. ( Arzacq has many services, including a large supermarket, a gite, b&bs, hotels.) At the traffic circle take the third exit signed "Pau" to remain on D946.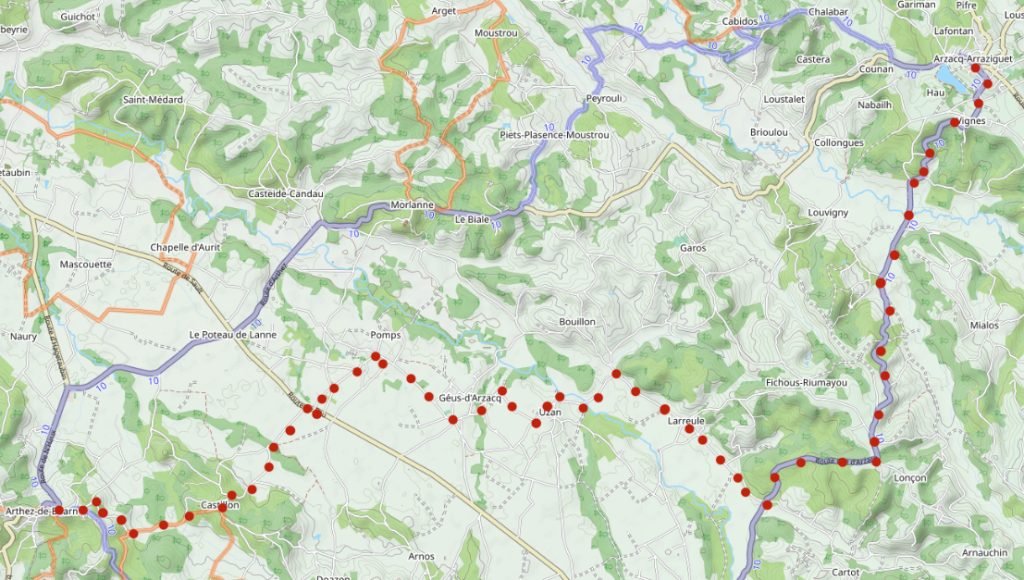 Do not leave Arzacq-Arraziguet by D946, as this highway is very hilly for a long period of time. Rather, turn left at the T onto D944 (signed "Pau") and in two blocks, at the traffic circle, bear right onto D32 (signed "Mazerolles), which has a gradual descent, one short steep hill, followed by a long descent, then one long, moderately-sloped climb, followed by another long descent — about 6 kilometers.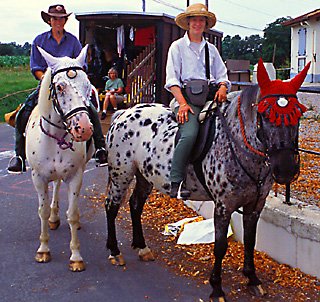 At the intersection with D206, stay on D32 which curves right. In about 1.5 km you come out of the hills to the inntersection with D262. Turn right towards Larreule. You have a choice of may westward flat routes, but you will probably enjoy following the GR65, through Uzan, Géus-d'Arzacq and Pomps. To do so, continue west from Larreule 1.5 km until the first left turn, D49 signed Uzan. At the sign for Uzan, bear right right. Continue southwest and south through the crossroad and turn right at the next intersection (sign Cami de la Lèbe).. This road, between fields with ditches on both sides, also the GR65, turns left (south). At the stop sign Géus-d-Arzacq is to the right. Go left and at the next crossroad turn right into the leftmost of the two roads sign "Pomps".
In Pomps turn left and ride to D945. Turn right and then left onto D269, which climbs steeply into Castillon on the ridge. Continue straight past the first Christ on a cross. Near the second such cross, turn right (but not doubly right) (sign Ärthez de Bearn) and continue curving downhill and then uphill until the T. Turn right onto D233 and ride into the center of Arthez de Béarn (gites, b&bs, camping, restaurants, food, good view).