Today's ride is the longest of the trip, 84 kilometers, but you will be in terrific shape. It divides into four parts: First you descend from Arthez and cross the bridge to Maslacq. Next you ride to Sauvelade and then to Navarrenx, essentially southward, on minor roads through beautiful back country (unless you choose the somewhat flatter boring route along a highway). Then it is westward on a low traffic highway to Saint-Palais. And finally it is southwestward on a major, but not very busy highway with a wide shoulder. In order to have the least traffic possible on this highway, consider departing Saint-Palais around 1pm, when most drivers will be having lunch.
I: From Arthez proceed westward on D946 through the town, then climb gently continuing straight onto D275 where D946 bears off to the right. You descend slowly, then faster. At the stop sign turn right onto D817 (sign Bayonne, Argagnon, Orthez), a major highway, with moderate traffic. After 1,200 meters, turn left and cross the bridge (onto again D275). and cross over the autoroute and the Gave de Pau River into Maslacq ( gites, b&b).
II: Leave Maslacq by the signed route for Sáuvelade (D275). This road, after eventually crossing a medium hill, comes to D110. Turn left and follow D110 for about 2 flat kilometers. The church in Sáuvelade is a remnant of an ancient abbey. Leave Sauvelade by D110 Soon after the town there is a Y. There are two possible bike routes to Navarrenx, both about 13 kilometers in length: The valley route on a highway , described below in italics, is faster and easier but with some traffic and less beautiful and less authentic than the route on country lanes, which has several hills. I'll describe both but in the spirit of a pilgrimage the GPX file follows the route on minor roads, which is identical to the GR65 walking route.
To take the highway, valley route, bear left at the Y, staying on D110. I recommend turning right at the sign for vVelleségure and riding through the village. (Otherwise T turn right onto D111.) The road from Vielleségue descends to D111. Turn right. Follow D111 (which suddenly changes its name to D67) to the traffic circle at Navarrenx. Take the second exit, then turn right for two blocks, and turn right again to enter the town.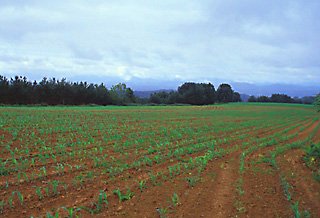 To take the prettier route on small roads with very little traffic that is more authentic and follows the red and white blazes of the GR65, bear right at the Y and left at the next Y. In about 2.4 km turn right (heading north-west). Keep left and and again keep left, now riding in a southeasterly direction. At the next crossing in 1 km, turn left (sign "Bastanés). At the Y bear left. When you reach the yield sign at highway D947 turn left. In about 1.6 km, after the town of Méritein, bear left (red circle sign "sauf deserte locale"). In 1 km carefully cross highway D67 and at the next road turn right. Continue straight for 4 blocks and turn right to enter Navarrenx. Navarrenx has gites, b&bs, a hotel, camping, restaurants and food stores.
III: From Navarrenx, cross the bridge over the Gave d'Oloron River and bear right immediately towards Castetnau-Camblong. Continue following D115 due west (rolling with small hills) to a stop sign, 10 kilometers. Carefully cross the major highway D23 and continue straight, now on D2023 through Nabas. Turn left, still on D2023 and soon turn right on D115 again (sign: St Palais 14). Follow D115 to the T at Aroue and turn right onto D11 and continue for 6.5 km.
Here you have a choice. Recommended (slightly hillier but 2.6 km shorter and much less traffic: After Aroue, 6.2 km or so, you will notice a sign for Berrante and then a road to the left with two red and white poles. Pass this by. At the next road, with three red and white poles (!), and a sign with a circle and "Sauf Riverains" (only local people) turn left (southwest). Turn left at the T (south) until this comes to a T and turn right. Turn left onto D933.
Alternatively, you could continue on D11 to the roundabout on the hill before St. Palais, then turn at the fourth exit from the roundabout onto D933. If you visit St-Palais, from the center of St-Palais take D2933 east to D933 and turn right. There can be some confusion at the first traffic circle you come to on D93; exit left.
IV: On D933 traffic can be moderate. Usually there is a narrow (0.8 meter wide) shoulder lane, but you will still occasionally need to impinge somewhat on the main traffic lane. Lunch hour would be an excellent time to ride. There are several small hills and one big hill on the way to St-Jean-Pierre-de-Port, but most of the way is uphill at an easy gradient that allows for rapid biking. Just before the town their is a pleasant, high-speed descent. The scenery seen from the highway is not special, but this is by far the best route to take. Along the way, above the main road, are more scenic towns and villages where you could visit or stay, such as Ostabat (gite, b&b) and Larceveau (hotel).
You really ought to make the small detour necessary to enter St-Jean-Pieds-de-Port by the ancient St. Jacques "porte" (portal) to the old town, used by the historic and present day walking pilgrims. You will need to watch for the turn carefully: After the traffic circle, where the road goes straight west and a "TOTAL" service station is on the left, followed by, also on the left, road distance marker 74, you come to at a white and red GR65 pole before a white building (equipment sales). Turn left, cross the stream and continue straight. You will cross a road and angle right up a hill (sign: To the Porte St-Jacques). You are likely to encounter many walking pilgrims here. It is a wonderful, picturesque way to enter charming St-Jean-Pied-de-Port*, which has gites, b&bs, hotels, camping, restaurants, and food shops. The welcome center for pilgrims where passports can be stamped is at #39 of the street that you enter on (Rue de la Citadelle.)
Many cyclists will end their journey from Le Puy-en-Velay here. All trains departing St-Jean-Pied-de-Porte for Bayonne carry bicycles. One train departing in the morning makes a connection with a TGV for Paris that carries assembled bicycles. There is a van service that shuttles between St Jean-Pied-de-Port and the Biarritz airport; see expressburricot.com. (They usually transport people and bikes in he opposite direction.) EasyJet in season has flights to several destinations from this airport. If you depart St Jean-Pied-de-Port early, you could bike from the Bayonne train station to the airport. Biarritz Airport Taxi services has a large van that can carry bicycles. (They usually operate in the other direction.)
Even if you are not continuing in Spain towards Compostella, I highly recommend that you cycle up to Roncevalles (called Roncevaux in French). The church there is magnificent, and, a minor point, you can feel the satisfaction that you rode across the pass of the Pyrénées and started the descent to Pamplona. If you are not continuing into Spain, in the afternoon cross back over the pass and coast back to St-Jean-Pied-de-Port. Page Day 15 discusses this ride and provides some information about cycling in Spain. A final page discusses cycling from St Jean-Pied-de-Port to to Spain or to the Atlantic Coast.
Link to Day 15: To Roncesvalles